Tim Burton is one of the last people you'd imagine would become one of the most acclaimed directors in the world. He is an introverted, unassuming person. His career got underway at the most famous animation studio in Hollywood, he landed his first directing gig because of a bootleg tape of a short film that was never released, and (for a while, at least) he had a movie in the top-ten grossers of all time.

Timothy William Burton was born August 25, 1958 in Burbank, California. Burbank may not ring as many bells as Hollywood, but it is the home to many film and television studios — NBC, Warner Brothers, Disney, and others. Burbank was quintessential 1950s American suburbia, a world in which the shy, artistic Tim was not quite in step with the shiny happy people surrounding him. He was not particularly good in school, and was not a bookworm. Instead, he found his pleasure in painting, drawing, and movies. He loved monster movies: Godzilla, the Hammer horror films from Great Britain, the work of Ray Harryhausen. One of his heroes was actor Vincent Price.

After high school in 1976, Burton attended the California Institute of the Arts. Cal Arts had been founded by Disney as a "breeding ground" for new animators, though they did offer other courses of study. Burton entered the Disney animation program in his second year, thinking it would be a good way to make a living. In 1979, he was drafted to join the Disney animation ranks.

Burton did not enjoy being an animator, not one little bit. Imagine, if you will, what it's like to be an animator. Films are projected at 24 frames per second. For a 90-minute film, that's over 129,000 individual frames. Characters are drawn separately and then put together, and placed over painted backgrounds. The work requires talented artists, but they cannot deviate from the structured manner of drawing the characters. Burton had been brought in to work on The Fox And The Hound. It bored him silly.
The studio recognized that Burton's talent was not being utilized. They made him a conceptual artist, the people who design the characters that appear in the films. He did early work on The Black Cauldron, the adaptation of the second volume of Lloyd Alexander's Chronicles of Prydain (a seven-volume fantasy series). If you're familiar with Burton's artwork, you can imagine that his concept drawings were nothing like your standard Disney fare. It didn't go over too well, and it was not used. However, he was set loose on his own projects. These included a poem and artwork that years later would become The Nightmare Before Christmas, the animated short Vincent, and the live-action short Frankenweenie.

The latter two received little or no outside exposure, but Burton did get to work with his idol, Vincent Price, for the first time and they remained friends until Price's death in 1993. Frankenweenie was awarded a PG rating, which precluded its release with their G-rated animated features. It was only released theatrically overseas, and had limited availability on VHS. However, it would be the film that landed him his first feature directing job.

Horror writer Stephen King (you have heard of him, right?) had seen Frankenweenie, and strongly recommended it to Bonni Lee, an executive at Warner Brothers. Lee then showed the film to Paul Reubens. Reubens was the man behind Pee-wee Herman, and was in the process of bringing his alter ego to the big screen. He knew right away that Tim Burton was the perfect choice for the job, and indeed they were a perfect match. As they say, the rest is history.

Following the surprise success of Pee-wee's Big Adventure, Burton didn't make another film for almost three years. It wasn't until he was offered the anarchic screenplay for Beetlejuice that he finally found another project suited to his unique vision. The film was an even bigger hit, and led to Warner Bros. offering Burton the job directing an eagerly awaited comic book adaptation that had been years in the planning.

Batman was less a movie, more of an event. It sparked controversy with the casting of Michael Keaton as the Dark Knight, and generated a merchandising blitz that is now standard for blockbusters. However, despite all the hype and studio interference, Burton still managed to put his own stamp on the film and it remains one of the most influential Hollywood movies of the last few decades. It's box office gross of over $250 million is also one of the highest in the studio's history.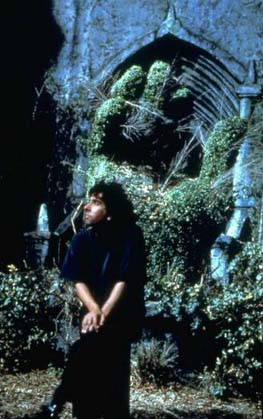 Rather than jump into making another blockbuster, Burton used his new clout to get an extremely personal project greenlit by 20th Century Fox. Edward Scissorhands was the first time Burton had full creative control over a feature film, having written the story and also produced the movie. The film was a hit with moviegoers and critics, and marked the beginning of Burton being taken seriously as an artist.

He followed it up in 1992 with the sequel Batman Returns. It was not as big a hit as the first film, and suffered a backlash from parents who considered it too dark and twisted for younger Bat fans. Although the film was an artistic triumph, the perceived disappointment led to Joel Schumacher taking over the franchise (although Burton did have a producer credit on Batman Forever). The same year Burton also found time to play a small cameo role in Cameron Crowe's grunge film, Singles, and an even smaller cameo as a corpse in his buddy Danny DeVito's film, Hoffa.

After finally seeing his dream project realised with the feature length stop-motion film The Nightmare Before Christmas, Burton returned to smaller filmmaking with his next project, Ed Wood. An affectionate tribute to the supposed worst filmmaker of all time, it was not a hit at the box office, but won Burton the best reviews of his career, as well as two Oscars. It was followed by an indirect homage to Wood's films, Mars Attacks! The film was a disappointment at the box office, and scorned by many critics, but has gained a cult status over the years. Burton made something of a comeback three years later with his first real horror film, Sleepy Hollow.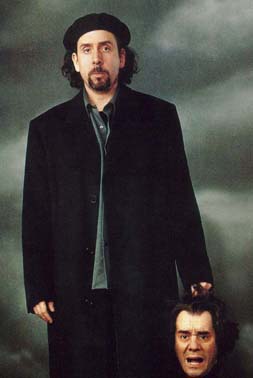 As for Burton's personal life, he married German artist Lena Gieseke in 1989 (while in the middle of production on Batman). They separated shortly after filming of Batman Returns. He began dating Lisa Marie shortly after. She appeared in four of his films: Ed Wood, Mars Attacks!, Sleepy Hollow and Planet of the Apes.

Between Mars Attacks! and Sleepy Hollow, Tim Burton spent over a year working on a new Superman film. A preliminary script draft was written by independent filmmaker and comic geek extraordinaire Kevin Smith. Nicolas Cage was attached to the project to play the Man Of Steel. However, Burton was not particularly happy with the script, and a spiraling budget caused Warner Brothers to pull the plug on the project.

His next project was a reworking of the classic sci-fi film Planet Of The Apes. The film was rushed into production after a long gestation period, and may have suffered as a result. The film was visually stunning, and featured several strong performances by the actors in Rick Baker's astonishing ape makeup, but it was regarded as a disappointment by many.

At the same time Burton's personal life was in a state of upheaval. Both of his parents died within a short space of time, and his relationship with Lisa Marie ended. Shortly after the release of Planet of the Apes, Burton began dating one of the stars of the film, Helena Bonham Carter. Their son, Billy, was born in October, 2003.
Burton's next project couldn't have been more different, even though it shared the same producer (Richard D. Zanuck). Big Fish was an adaptation of the novel by Daniel Wallace. Perhaps the theme of a man trying to reconnect with his dying father resulted in this being Burton's most personal and emotional film in years, and it earned respectable reviews and box office.

In 2005, Burton directed back to back movies for the first time. His first project was another movie based on a novel, Charlie and the Chocolate Factory. Johnny Depp played the lead role of Willy Wonka, and the film was one of the most successful blockbusters of 2005. It was followed two months later by the release of the stop motion animated film, Corpse Bride. Both films generally received good reviews, and Corpse Bride was even nominated for an Oscar for Best Animated Feature (it lost to Wallace and Gromit).

Burton's next directorial project turned out to be the long-rumored musical Sweeney Todd. It was released in the U.S. in December, 2007 to rave reviews. After producing the animated feature 9 (released on 9/9/2009), Burton followed it up in 2010 with the 3D Alice in Wonderland (which, despite the title, was actually a sequel to the Disney classic, not a remake). Despite a mixed reception, the film grossed over a billion dollars worldwide.
Although there are rumours that he wants to take time off to be with his family, Burton has no less than eight films currently in development, either as producer and/or director. The first of these to see release will probably be a feature length version of his short, Frankenweenie. Burton has claimed for years that he wanted to expand on this story, and he will finally get his chance. Though his recent films have been disappointing for some, one can only hope that at least a few of these future projects will connect with the filmmaker and create some more of that Burton magic.